Norfolk Prison Colony Collection (MS 074). Special Collections and University Archives, UMass Amherst Libraries.
This collection consists of ten folders that include photographs and various writings such as notes, letters, and manuscript drafts. Related collections about Howard B. Gill, the architect, can be found at Boston College.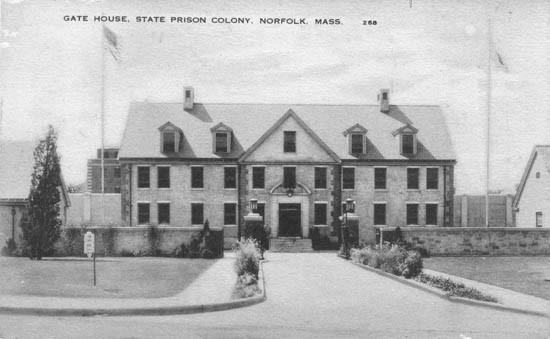 http://www.usgwarchives.net/ma/norfolk/postcards/nstpen.jpg
The Norfolk Prison Colony became the Massachusetts Correctional Institution –Norfolk, which is a medium security prison and the largest in the state.
A quick web search retrieves the following website: http://statesofincarceration.org/states/massachusetts-norfolk-prison-colony-debating-society. Here, researchers focused on the rehabilitation techniques used within the facility. Their work within the prison emphasizes the inner-workings of the Norfolk Prison Colony Debating Society. Notably, Malcolm X participated in debates and claims this experience as his "baptism into public speaking." Despite receiving criticism for their progressive goals, the prison maintained "a reputation for inmate educational programs with ties to area colleges like Harvard, Emerson, and Boston University. " So, rehabilitation was, in fact, strongly connected to education.
Howard B. Gill's beliefs behind the prison model are detailed here: "His theory was based upon the belief that positive experience trumps negative, and that rehabilitative policies would better enable prisoners to reintegrate into society. His education programs were designed not just to aid the inmates academically but also to provide the opportunity to interact with people from the outside."
Like College Guild's motto today–"Respect Reduces Recidivism"–Gill thought that providing a life more aligned with 'normal' society would best help the prisoners in reacclimating post-incarceration.
State political leaders' actions in the 1980s led to the loss of community rehabilitation at Norfolk. Cuts to funding diminished educational programs such as the Debate Society and turned the prison's focus more toward Governor Weld's perspective on punishment: "Prisons should be a tour through the circles of hell where inmates should learn only the joys of busting rocks."
The Boston Globe interviewed Joel Winslow–the son of prison superintendent Maurice Winslow–which can be found here: https://www.bostonglobe.com/metro/regionals/west/2013/01/13/secrets-norfolk-talksecrets-norfolk-secrets-barsnorfolk-prison-warden-recalls-unorthodox-childhood-norfolk-prison-secrets-behind-talksecrets-norfolk-secrets-prison-behind/Th1V3ZsB3LgMrIP2iPlC4H/story.html. In the interview, he mentions the debate team along with the prison farm, baseball team, and boxing matches.